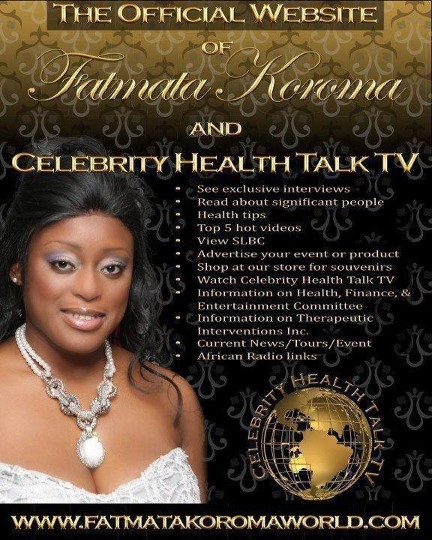 Celebrity Health Talk TV
"CELELBRITY HEALTH TALK" is a one of a kind television show that creatively establishes a platform designed to empower the community. It is a network where you will find information on Health and Wellness, lifestyle, beauty, fashion, arts and entertainment, positive self-image, and self-awareness issues that impact the national and international community. Celebrity Health Talk has an online following of close to 20,000 fans and followers on social media. The show is designed to provide the community with information on health maintenance while showcasing interesting and significant guests who provide a brief summary of their work in the community. Celebrity Health Talk has previously broadcasted on the premier TV broadcasting station in Sierra Leone called SLBC (Sierra Leone Broadcasting Company) and on Medo Satellite TV in Sierra Leone. It is currently on ICANTV (a satellite TV network) based in New York and Sierra Leone. Celebrity Health Talk can also be viewed on www.celebrityhealthtalktv.com, www.fatmatakoromaworld.com, and ICANTV (International Caribbean African Network Television) www.icantv.org.
Celebrity Health Talk is a lifestyle show that features people who work hard in building a strong community. The guests include music artists, politicians, entrepreneurs, business professionals, athletes, health, wellness, and fitness professionals, entertainers, community organizers, and many more. These people tell us about and also tell us about what they do to maintain their health. The guests discuss a broad range of their healthy living secrets and habits. They may discuss their healthy eating habit, exercise routines, beauty secrets, and many other healthy living tips. This show promotes and encourages healthy living in the community. This show is produced in the United States, the United Kingdom, and in Sierra Leone but can be viewed from anywhere in the world via the internet. The featured guests are themselves from diverse backgrounds that come from all walks of life. My guests on "Celebrity Health Talk" include people from Sierra Leone, United States, and other African and international countries.